If you think of a dress you should buy for a date night, a house party or just when you want to collapse into the sheets, what's the first thing that comes to your mind? Go on; take a minute to think about it. You've got it right if your answer was a jumpsuit. It is just so stylish and comfortable. Not everybody likes these though. Were you wondering why? I'm not sure about you, but for the longest time, I've been one of those. I thought jumpsuits were perfect for those with an ideal body that means they never were for me. That's shifted, with jumpsuits evolving, my limited knowledge of them, and the possibilities out there.
Luckily, with warmer weather on the way, you won't want to waste any time indoors trying to figure out what to wear. If you're tired of getting around in the spring and summer months for the same shirts, tops, and tees, why not go the unconventional path and choose?
Not only do these throw-on-and-go pieces make it incredibly easy to get dressed, but they are also super flattering on anybody. They look just as polished and sleek as the dresses of your favorite spring, but they tend to be much more comfortable. Another bonus when you wear a jumpsuit is that you never have to think about sudden gusts of wind whipping your skirt up again!
If you're curious how to dress, take a cue and a tailor-made blazer over a glamorous jumpsuit for a confident and sophisticated feel at night. Alternatively, keep things casual and accessorize an alternative that suits loosely with cool slides and sunnies.
Whether you choose dressy jumpsuits, long-sleeved jumpsuits, or laid-back casual jumpsuits, you won't have trouble choosing one that fits your signature style from our ten best jumpsuits list below. Scroll through to shop some of the most trendy jumpsuits available now in stores— they are guaranteed to keep you looking relaxed and comfortable throughout the season.
Significance of a jumpsuit
The most significant benefit of this female jumpsuit outfit lies in the fact that on various occasions, they are quite comfortable to wear. For starters, wear a sleek black jumpsuit or strapless black jumpsuit in the case of a formal office meeting or group. You should put on a metallic or sequin jumpsuit for a fashionable fancy party. You have a white jumpsuit dress for celebrations too, and so on. These meet the needs of the wearer depending on the occasion and therefore make it versatile.
Things to consider before buying a jumpsuit
Following are some of the points which are to be kept in mind while buying a jumpsuit:
Those people younger (before mature age groups) will find better rock the jumpsuit costume.
As with the opportunity, you should agree on the jumpsuit type. If you'd instead look bold and sexy, go with a flared jumpsuit to the strapless one, or cross strap or deep neck.
You can go for the pure plain silk or linen jumpsuit if you want to go with simplicity, then.
Plus size for women with an hourglass figure, all can seek this one.
Chain tie, strapless, dark flares collar are best suited for the shape of petite and hourglass.
Types of jumpsuits
Here is the list of different types of jumpsuits every girl should have in her wardrobe:
Black heather jumpsuits
The easiest thing to do when shopping for long sleeve jumpsuits in doubt is to choose dark colours. Yet, it never fails you with black as a choice of colour. This monochrome jumpsuit provides you with good coverage while incorporating depth in the right places and proportions. These dresses can be worn as-is, and need little else to do else, such as hats, etc. If you have broad shoulders to cover and thin legs to flaunt, go along similar lines with something. Nothing to be scared.
Tips for wearing
· This jumpsuit provides the perfect fit for pear-shaped bodies.
· Aim for something that narrows at the waist and rests well on the broad thigh, exposing the relatively small area of your bust.
· Know you need to be mindful of your type of body and do something that will bring balance.
· Standard V or plunge V-necklines steal publicity, so look out for such information.
· To intensify the look, combine them with pumps or stilettos.
· Colour block attachments should you use any of them.
Blue cold shoulder jumpsuit
If you're trying to cover your broad shoulders or if you're someone who isn't thrilled with the idea of going sleeveless, go with the cool shoulders tops. Fashion fads work really for our gain; we are indebted. Subtle and trendy, I think, is how most of us like. For your small frame and wide hips or bulkier legs, the svelte waistline that moves down into baggy fitting pants works best. The baggy hemline brings wind, and do you know one of these? With the boots, you can get as comfortable as you can. Shoes, Flats, or anything else in which you feel comfortable.
Tips for wearing
· It will suit those with a rectangular or apple-shaped type of body.
· Swap the linen, cotton, or satin fabric that sits well, without getting too close to the skin.
· The aim is to draw attention away from such places of discomfort.
· If you have shorter legs, go along with wedges that make you look more full and suit the baggy style as well.
· High-neck or halter looks just as good as that.
Strapless denim jumpsuits
Okay, you see what they're doing, the faint-hearted are not cool. But maybe it is, after all, this isn't a big deal. You just have to give it a shot and let go of the anxiety. How else do you think the industry has evolved? If you want to flaunt an hourglass figure, step into a jumpsuit like this. We guarantee you are not going to get disappointed. It almost looks like those with lower bustline or thinner bodies have the strapless neckline. Denim jumpsuits and rompers are staples, but there are so many different options.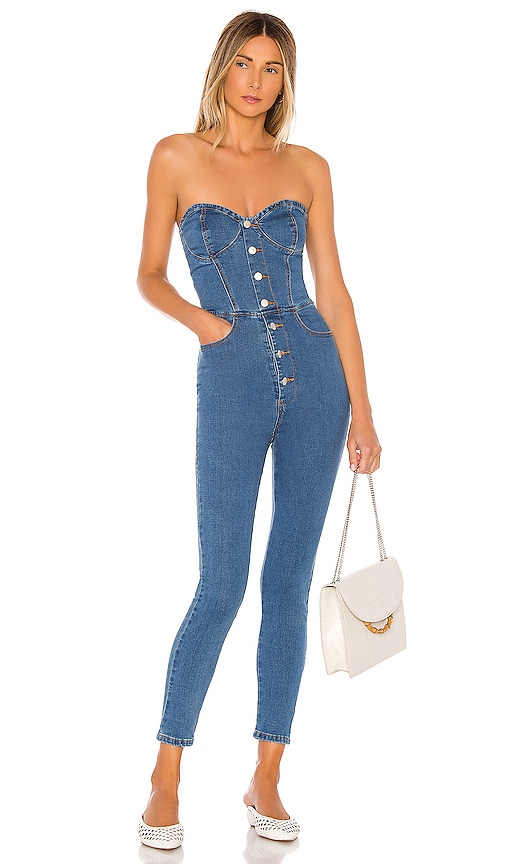 Tips for wearing
· It fits the one with a small body or an hourglass.
· You could go to the bare arms and nothing like that.
· If you're feeling vulnerable and exposed just because the necklines make you think so, consider a statement neckpiece that gets the attention away.
· Try other choices for the fabric such as lycra, satin, or chiffon— your possibilities are endless.
Baggy rayon jumpsuit
Bohemian based styles are relaxed and elegant. You can wear these with mates for a lunch date, a day at the store, or even making this feel like your airport. Sometimes these loose one-piece suits from head to toe may seem like it's swallowing you because of the shape, so this may not be for you. Or at least, first, check it out.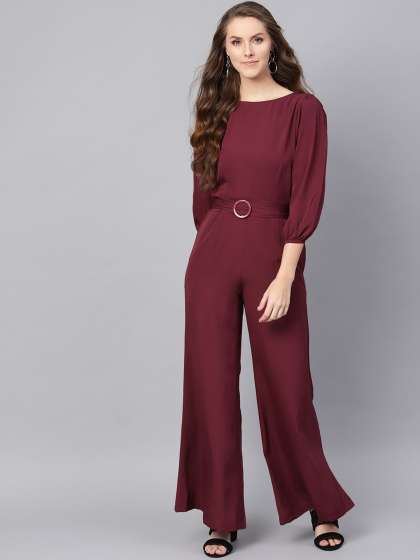 Tips for wearing
· They look great on any type of body.
· If you're petite though, miss this, because it's a silk sheet.
· Go for these boho-chic patterns with flats as they go together quite well. Look out, though, if you're like me and fall into the category of not-so-tall.
Black layered jumpsuits
Bored with bold, plain jumpsuits? Layer it upwards. It doubles up as a back suit and a one-piece front dress. You should wear this to work quickly, and indeed you're going to wear a power dressing.
Tips for wearing
· Suitable for any type of body, especially the slim and hourglass shapes.
· Go on the accessories quickly, but you might use a trendy pack.
· One or two-inch heels with that theme are going to go well.
· If you are using a different jacket, then what comes with the pack, pay attention to the text of the layer.
· Fabrics make a lot of difference for these skirts, so go with something that isn't messy, but should be comfortable in style.
Black solid jumpsuit
Beauty lies in the minute details. You have got to hear that a million times, right? I just said that again there. The detailing of the gold embellished neck bumps up against everything for this dress. Also, no accessories are needed at all. I'm sure some of you shrugged it aside when I first mentioned you the jumpsuits could be worn at dinners or the date night. I just hope that's enough evidence. Switch between jets, wedges, and peep-toes— anything fits!
Tips for wearing
· Suits better for bodies formed in triangles.
· Halter, high neck or strapless take the attention away from the narrower bustline or function narrow shoulders for this type of body triangle.
· Search for something that fits the curves into form and rests well on the thighs.
· Go happy with ballerinas or any heels; these dresses will handle it.
Printed pantsuit
Anyone with imprinted pantsuits? Imagine getting perfectly fitted pants to look and top without all the fuss! If you've got an hourglass figure, one of those will still provide well for you. The cloth creates a considerable difference for the majority of us. There's something that works better than matching the body outline.
Tips for wearing
· It suits the bodies in the hourglass and triangle shape.
· A slim waist belt could be inserted for impact.
·   Depending on the document, delicate silver, and gold jewelry will be a good match, there are great jewelry pieces shown at adinasjewels.com/collections/14k-gold-earrings that you can look into!
Ivory solid jumpsuit
One dress that was all over the place, from your wardrobe to the runway. Beyoncé, JLo, Taylor Swift, Gigi Hadid, Kylie Jenner, Kim Kardashian, and many others spore this look — royally. A dress that sets you apart and turns your heads. You get these in several versions, so choose something that will suit your type of body. A dress that is cinching close to the waist, especially with a gold belt, will increase the quotient in style.
Tips for wearing
· Fits hourglass proportions or small bodies because it is light in colour.
· There's plenty of choices, choose a style that fits your body, and that's all it takes.
· You will never fall short of gold chains and shoes.
· A platonic waist belt!
Floral jumpsuit
So to say, the little sister of our jumpsuit. Which began out as an alternative has caught up like wildfire for babies. Thanks to its feather-light texture and style, it should be. These are sleek, convenient, and easy-to-use. You know just how some jumpsuit designs work smoothly? It's one of them. A perfect accompaniment in summer too!
Tips for wearing
· It is another style that fits all types of bodies. You need to be aware of the specifics, though.
· Specifics such as the shirt model will suit the best for a pear-shaped body, while for women with a more massive bust line, a strapless goes.
· Shoes and rompers are running like a well-oiled machine, while flats are a close second to this score.
· Mind your accessories will suit your romper's fabric, pattern, and style.
Bold colour jumpsuits
From the beginning, bright jumpsuits were a rage. Pick, choose, and style are relatively more comfortable. Bearing in mind our body types, designs, and prints require a little more time. Bold jumpsuits are a safe bet, though. You can block it by contrast with colour or add a denim jacket to make it more casual. It is a must-have anyway.
Tips for wearing
· It suits every type of body.
· If you're not very tall, pay attention to the length of the edge, it may look strange.
· Paint it up, spice it up or cover it with light.
· Include a slim waist belt that will round out the look and do just that.
I hope you liked the above- mentioned women's comfortable jumpsuits. One very important thing to learn is an exploration of beauty or being trendy doesn't involve flaunting a perfect body, flashboard abs, or an hourglass figure. It's about making yourself comfortable in whatever you wear with the right attitude. Beauty lies in fully loving the imperfections! Enough said, go and pick up the jumpsuit or culottes that you have been thinking of wearing for a while now. Pull it on, rock it, and smash it! Do you have any questions? If so, drop an mail to us!