Are you looking for the list of the best refrigerators under 20000? Well, here are the best picks you can find for your next great refrigerator. To give you an idea, a refrigerator available at this price range has a storage capacity of around 200+ liters and comes with the ability to connect to a home inverter.
Also, you'll mostly get an energy-efficient 3-star or 4-star unit with some 5-star units that are also being put to offer. Typical for the price range is the manual defrosting along with shelves made of toughened glass.
Without further ado, here's the latest best refrigerator under 20,000 you can buy while upgrading your budget to 20,000 INR:
Best Refrigerator Under 20000 INR In India
Following are some of the best refrigerators under 20,000 available in the Indian market:
Samsung Frost-free Refrigerator, One Of The Best Refrigerators Under 20000 INR
Are you looking for the best double-door fridge under 20000 INR? You then need to take a closer look at the Samsung RT28M3022S8 fridge. A frost-free defrosting mechanism also features in the double-door, direct cooling refrigerator. Therefore you don't need to take care of it manually.
With a maximum capacity of 253 liters for refrigeration, the Samsung RT28M3022S8 refrigerator is an ideal choice for a family of 3. While the frost-free refrigerator comes with energy efficiency ratings of 2 stars, it does not consume too many units of electricity.
Product Features
Samsung RT28M3022S8 can maintain a uniform temperature from top to bottom, thanks to an all-around cooling mechanism.
The Samsung refrigerator features recessed handles inspired by minimalism and hidden hinges that sit well with any modern home decor.
While the Digital Inverter technology ensures reliable operation, using a home inverter, the Smart Connect Inverter makes the Samsung RT28M3022S8 cooler usable during power-cuts.
The power-efficient LED lighting illuminates every angle of the refrigerator.
Product Advantages
Reviews think that the refrigeration device is very effective. Chilling beverages are pretty fast, and in every corner of the refrigerator, the cooling is almost the same.
Held in the crisper, the vegetables and fruits also retain their freshness for 7-10 days.
Talking about the drawbacks, you find that the temperature adjustment knob is towards the refrigerator 's back, making access a bit difficult.
Next, you'll find the freezer and fridge cooling isn't separate.
Overall, the refrigerator has relatively good space despite the price tag, effective cooling, and is found to be very robust too.
Product Limitations
None. It is an excellent product from a well-known brand in this price range.
Ratings On Amazon – 4 Star
LG Single Door Refrigerator
The LG GL-D201ASPX refrigerator is another pick which may be the best refrigerator under 20000 in India for a family of 3. The LG GL-D201ASPX comes with the Smart Inverter Compressor, one of the most advanced and efficient compressors in terms of energy. It can work on a voltage range between 90V and 310V. It succeeds in delivering excellent performance in refrigeration while keeping noise levels down.
Product Features
LG GL-D201ASPX features Smart Connect Technology to deal with power-cuts.
It enables you to connect the fridge to your home inverter and even during power outages to enjoy the cooling.
The LG refrigerator guarantees enough savings on bills with its 4-star energy quality.
Product Advantages
One of LG Gl-D201ASPX's key highlights is its distinctive lattice-type box cover.
This helps maintain optimum moisture for vegetables, fruits, and other food products.
The trays made from toughened glass can accommodate up to 175 kilograms of weights.
Product Limitations
The price of the product is a setback as compared to other brands.
Ratings On Amazon – 4.3 Star
LG Direct Cool Refrigerator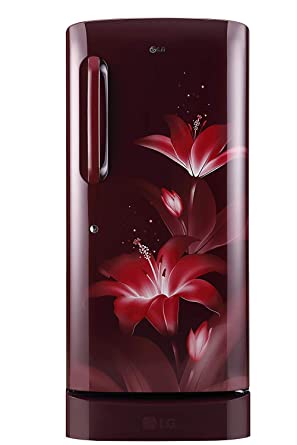 The Samsung RR22M272ZS8 is an excellent refrigerator choice that you can purchase with a cost of less than 20,000 INR. The direct-cool, single-door refrigerator has a maximum storage capacity of 212 liters, which is sufficient for a family of 3.
Product Features
The toughened glass shelves of this refrigerator hold weight up to 150 kilograms.
In addition to being easy to clean, the anti-bacterial gasket prevents bacteria and fungi from intruding and building up within the refrigerator.
Product Advantages
If you liked the above LG 190 L GL-D201ASPX. ASPZEBN but would like a slightly higher-capacity refrigerator, then you could opt for the LG 215L LG D221ASPY.
Other than the higher capacity, you will also find that its energy efficiency is better, consuming only 139 units of electricity annually.
This refrigerator, which costs about Rs. 2.5k higher than the previous LG model would certainly delight you with the broad, well-organized room and better energy savings.
Product Limitations
None. It is a great option to buy.
Ratings On Amazon – 4 Star
LG 5 Star Inverter Refrigerator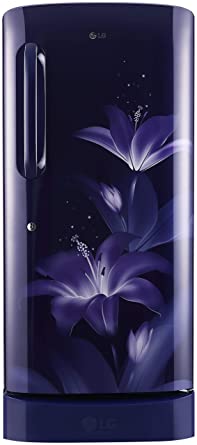 You not only get 215 liters of storage space with the LG GL-D221ABGY but also a 5-star energy efficiency ranking. The direct cool, single-door fridge features spill-proof toughened glass shelves that can hold up to 175 kg. The LG GL-D221ABGY is capable of being a possible best refrigerator in India under 20000.
Product Features
The LG GL-D221ABGY is made from stainless steel and will serve you for many years to come.
The double manufacturer warranties, one year on the product, and ten years on the Smart Inverter Compressor, show the confidence put into the product.
Product Advantages
The LG refrigerator comes with Smart Connect Technology for dealing with power outages. It lets the refrigerator connect during power-cuts with a home inverter.
The LG GL-D221ABGY can run as low as 90V and as high as 310V at voltages.
The LG fridge features a lattice-patterned box cover to ensure the optimal amount of moisture in fruits and vegetables.
The trait is known as Moist 'n' Fresh. LG GL-D221ABGY can begin ice production in just 108 minutes.
Product Limitations
The price of the product is a bit higher as compared to other brands.
Ratings On Amazon – 4.2 Star
Godrej Refrigerator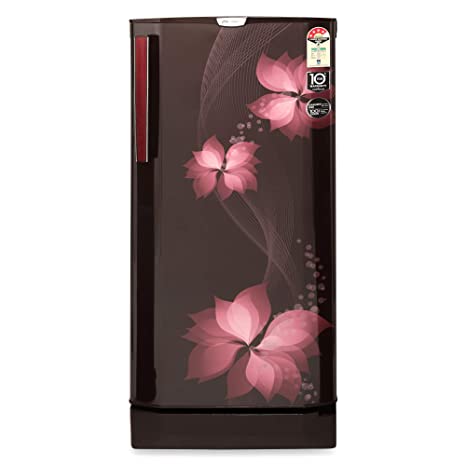 The Godrej R D EPro 225 TDI 5.2 PRL WIN is a cool, single-door direct refrigerator available under 20,000 INRs. The Godrej refrigerator offers 24-hour retention of the cooling even during power cuts thanks to the Aroma Lock feature.
Product Features
Godrej R D EPro 225 TDI 5.2 PRL WIN refrigerator is ideal for any family of 2 to 3 members, of a maximum storage capacity of 210 liters.
The Godrej refrigerator offers an almost inaudible service, making sure there is no disturbance due to this in your household.
Product Advantages
Perhaps the Godrej R D EPro 225 TDI 5.2 PRL WIN's most important highlight is its dazzling 5-star energy-efficiency score.
Hence, with its intelligent Inverter Compressor Technology, it ensures huge energy savings along with an excellent cooling capability.
You can easily attach the Godrej to your home inverter for uninterrupted refrigeration during power outages.
It offers 2.5 liters of dedicated bottle space, enough to store several bottles and drinks.
Product Limitations
None. It is a great option available with advanced features from a good brand.
Ratings On Amazon – 4 Star
Whirlpool Single Door Refrigerator | Best Refrigerators Under 20000 INR
The Whirlpool 230 IMFRESH ROY 3S is another appropriate candidate for the title of "best refrigerator under 20000," with a maximum refrigeration capacity of 215 liters. It is capable of maintaining optimum moisture in fruits and vegetables and keeping them fresh in the garden for seven days.
Product Features
Whirlpool 230 IMFRESH ROY 3S offers 12 hours of storage of milk, including through power cuts.
The 6th sense FreshControl Technology and the Insulated Capillary Technology make this possible, which means that all the cooling inside the refrigerator is closed.
Product Advantages
The Whirlpool refrigerator comes with a non-stabilizer operation, manual defrosting, and removable anti-bacterial gasket.
The 3-star energy-efficient refrigerator features two dedicated door racks that can store and chill up to 5 bottles of one liter and three bottles of two liters.
Product Limitations
The refrigerator suffers from overheating issues.
Ratings On Amazon – 4.1 Star
Whirlpool 245L Single Door
The Whirlpool refrigerator has a size of 245 L and is the strongest under 20000 refrigerator. It comes with deep freeze technology that holds the coldest temperature inside the freezer, keeping free of ice-creams and other edible crystals. The refrigerator has flexible vents on the sides, which allow for uniform cooling with clean air to keep the food items fresh for a more extended period.
Product Features
The refrigerator is fitted with three hard glass shelves, an enclosed dairy shelf, and three side shelves, including a wide one to accommodate 2 L bottles – making the interiors relatively well organized.
The refrigerator uses a rotary compressor, which consumes approximately 308 units of electricity annually and only receives 2-star energy efficiency.
The fridge has fresh flow Flexi vents with anti-bacterial air filters to enhance the cooling efficiency.
In turn, the air flows through the tall air tower toward the refrigerator 's back, ensuring uniform overall cooling.
Product Advantages
Whirlpool uses numerous technologies, such as micro-block technology, which is an additive added to the vegetable crisper and icebox, to reduce bacterial growth to preserve the freshness of the food.
Using Freshonizer, the oxidation rate is high to increase fruit and vegetable shelf-life.
The active deo keeps the fridge clear of odor.
Product Limitations
You can find that the sides of the fridge are always hot, as it uses a rotary compressor. Certain cities also report installation delays.
Ratings On Amazon – 4 Star
Godrej Frost Free Refrigerator
Godrej RF GF 2552PTH is the best refrigerator below 20000, consisting of 2 shelves with built-in air vents that ensure all-round refrigeration. The fridge lets you store fruit, vegetables, milk, and juices for a more extended period. The refrigerator consists of a reciprocating compressor that maintains a chilled temperature within the best refrigerator below 20000.
Product Features
The refrigerator uses a rotary compressor and consumes 204 units of electricity per year, thus receiving a 4-star energy rating for itself. The refrigeration is also relatively effective.
Because it has a large capacity, you can find plenty of room to keep all the food you produce.
The freezer is pretty spacious, and a dairy zone is located below.
It has a total of 4 toughened glass shelves with a moderately large vegetable crisper box in the bottom and a dry storage rack.
Product Advantages
You'll also find the side shelves are smartly designed to maximize storage space.
It also has a 1-year product warranty and 10-year compressor warranty.
It has a big box for vegetables
It is compatible for families of 2 to 3 members.
It has an auto defrosting to avoid overgrowth of ice.
It has a free operation of the stabilizers.
It has an aroma locking that lets you lock your food in the delicious freshness.
It has a door locking facility to avoid unnecessary fridge opening.
Product Limitations
None. However, it is an excellent buy in this budget.
Ratings On Amazon – 3.2 Star
LG 5star Inverter Frost Free
LG GL-D241APZY is the best refrigerator for single doors under 20000, with a size of 235 L. The refrigerator works with smart connect technology that allows the user to connect the refrigerator to the home inverter, or to enjoy cooling with the solar panel during power cuts.
Product Features
It has an innovative lattice-patterned box cover that retains the moisture and retains food products fresh for a more extended period.
It can work efficiently and can stabilize from 90V to 310V.
It has a 1-year product warranty and ten-year compressor warranty.
Product Advantages
It has an energy rating of 5 stars.
It contains a Smart Compressor Inverter.
It has spill proof racks of toughened glass.
It has a spacious tray with a chiller.
It consists of an antibacterial gasket to prevent dirt and dust from entering the fridge.
It has a base stand and a cabinet for stocking vegetables.
It can work with solar energy, too.
Product Limitations
The price of the refrigerator is a bit higher as per the competitor brands.
Ratings On Amazon – 4.3 Star
Samsung 198 Litres
Samsung has the best under-20000 refrigerator. The Samsung 198 L 5 Star Direct-Cool Single Door Refrigerator is a stylish style refrigerator with a chrome H-Bar handle and adequate space. The refrigerator is energy-efficient and has a wireless inverter compressor. Its Free Operation stabilizer means that even during voltage fluctuations, it works steadily and reliably. The best refrigerator can be taken home under 20000, and you can enjoy the peace of mind.
Product Features
Samsung is a budget-friendly single door refrigerator with an energy rating of 3 stars and a size of 198L.
Digital inverter compressor technology is used by the refrigerator to ensure maximum performance, low energy consumption, and, above all, high durability.
The refrigerator can also be locked to keep children away from opening the door frequently.
Product Advantages
Inside, there are three toughened glass shelves and a big vegetable crisper, which is enough to hold vegetables for around 5-7 days for two men.
There are four side racks, which include one with a tall bottle guard to hold 2 L bottles.
Product Disadvantages
None. It is an excellent option for people having a budget below 20000.
Ratings On Amazon – 4 star
Haier HEF-25TGS | Best Refrigerators Under 20000 INR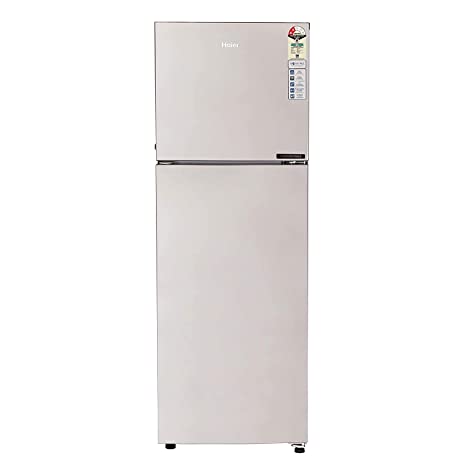 The best part about Haier HEF-25TGS is that it has the maximum space and energy efficiency in this list compared to the remainder of double door refrigerators. The not-so-good part is that, depending on the marketplace algorithms, its price sometimes touches about Rs. 21,000.
Product Features
The Haier HEF-25TGS is a reversible refrigerator, which means it can turn the freezer to the fridge and back to the freezer.
Although the convertibility is not as extensive as a Samsung Convertible Refrigerator, it is one of the fastest among the brands available, running a full conversion cycle in just 50 minutes.
Haier has worked on the refrigeration equipment.
Product Advantages
The previous 1-hour icing technology has been updated, and the freezer is now making ice in 49 minutes.
The refrigerator and freezer have separate temperature adjustment knobs which make it easy for
There are four hardened glass shelves and fruit and vegetable crispers speaking about the interiors.
Even the side shelves are tightly arranged so that the fridge suits well in a compact kitchen.
The big bottle guard makes it suitable for bottles of 2 litres. Thanks to the tall LED light tower, the interiors are also well lit.
Product Limitations
A drawback is the lack of prompt installation and after-sales service cited by a few customers.
Ratings On Amazon – 4.6 Star
Samsung 192 Litres (Best Refrigerators Under 20000 INR)
This fantastic door style Samsung fridge looks fantastic. The chrome bar even looks great with it, and it will look sleek in your kitchen.
Product Features
This refrigerator has a total capacity of 192 litres and comes with direct cooling technology.
For this, you get an outstanding 4-star ranking and still very low power consumption.
It has a digital inverter technology that consumes less power and also makes little noise, plus it keeps food fresh for longer.
It also senses temperature with it, and consequently adjusted compressor speed to reduce energy wastage.
Product Advantages
It's got toughened glass shelves that can hold up to 150 kg of heavyweight food items that are great.
It also comes with free operation stabilizers like the rest of the fridge that can operate efficiently without any external stabilizers. So, you don't even need to purchase a new stabilizer.
This fridge comes with a Safe Clean Back so you can quickly clean it, and it also protects it against accidental bumps and knocks.
With a home inverter and solar panel, you can run this fridge comfortably, and now enjoy cold water and fresh food even during power cuts.
Product Limitations
The low capacity is the biggest drawback of this refrigerator.
Ratings On Amazon – 4.2 Star
Buying Guide For Best Refrigerators Under 20000 INR
Buying a refrigerator doesn't have to be complicated and time-consuming. We 're here to expel the whole mystery and help you pick your best refrigerator under 20000. Let's immerse yourself in and see what features you should be looking for.
Decide The Power You Need
The first thing that comes to mind is, what type of refrigerator do I need? Some models come with a high freezer capacity, and some with high storage capacity for vegetables. You must pick one that has the maximum ability that satisfies all your needs.
Type Of Refrigerators
Single Door
Single door refrigerators operate with direct cool technology, but nowadays, companies are also implementing an auto defrost option to give the best refrigerator under 20000 with evolving technologies.
• 150 to 250 litres capacity
• Economic
• Defrosts manual
• Suitable for a 2 to 3-member family
Double Door Refrigerator
A double door fridge has an overall capacity of between 250 and 500 litres. These refrigerators are designed to use less energy and are free of frost in nature, which means you don't have to spare time to defrost them manually. Double door refrigerator is energy efficient, and glass shelves are toughened to withstand the weight.
Side By Side Refrigerator
The most expensive models out there are side by side refrigerators, and consequently, they are furnished with the latest technologies. These fridges offer an extra room with a few distinct segments, with limits running from 550 to 850 litres. Some even accompany front-end water and ice dispensers. They are naturally frosted free and are accompanied by toughened glass racks.
Vegetable Storage
Most refrigerators below 20000 offer a dedicated space for veggie storage. Go for the highest if you have a large family stocking up on weekly vegetables. That completes the list of the best refrigeration options under 20000. — of these refrigerators addresses specific needs, so there's a choice for everyone.
Overcome Power Cuts
Today, new technology is available, which allows the refrigerators to keep the contents cool and fresh even during power cuts. These refrigerators can keep the freshness during a power cut for a period ranging from 2 to 7 hours. The price is on the higher side, of course.
BEE star rating
The Bureau of Energy Efficiency (BEE) rates the refrigerators' efficiency based on the consumption of electricity. The ratings are the most efficient in the form of stars having a 5-star rating.
You should note, however, that these ratings are only available for the single door and the frost-free fridges.
Investing in a 5-star refrigerator may initially be expensive but, due to regular electricity savings, they are economical over a period. Also, the inverter models are very efficient.
How Do You Know When Your Fridge's Dying?
If the food in the refrigerator is quickly ruined, excess condensation, motor running hot, and sound coming from the refrigerator or it's been 10 + years. There are only a few symptoms that you can quickly find to know that your fridge is dying.
Which Temperatures Do I Have Inside My Fridge And Freezer?
The average temperature to maintain is 38 degrees F. In contrast, the preferred temperature is between 35 and 38 degrees F, i.e., between 1.7 and 3.3 degrees C and minus 10 to minus 20 degrees C and freezer set. A higher temperature than that will freeze and spoil the food too quickly.
How Do I Reset My Compressor To Refrigerate?
Locate and unplug the power cord from the refrigerator's wall socket. Turn off the refrigerator and freezer. Then plug in the power outlet again, and adjust the refrigerator and freezer set you want.
What Are The Signs Of A Bad Compressor In Refrigerator?
The main signs the compressor fails is that it runs without the refrigerator and freezer compartments reaching their proper operating temperatures and may be due to the loss of refrigerant system failure or improper valve operation.
We highly suggest Haier 258 L HEF-25TGS from the double door refrigerators inside Rs. 20000. It is one of the best options to consider with features such as rapid cooling, swift convertibility, and full flexibility within the price range.
Now, if you'd be satisfied with a single door refrigerator and are searching for something more cost-effectively priced, then we'd recommend you opt for the LG 215 L GL-D221ASPY cooler. Highly energy efficient, with well-organized interiors, smart inverter compressor, and excellent cooling efficiency, it is one of Rs. 20000's best single-door coolers.
We hope you find this list of Best Refrigerators Under 20000 INR helpful.