Drones deployed for controlling locusts in Rajasthan as Union Ministry of Civil Aviation has permitted the Rajasthan government's Agriculture Department to use remotely piloted aircraft systems for anti-locust operations in the broad areas where the swarms of insect have landed. The locust attack has affected approximately 90,000 hectares in 20 districts of Rajasthan.
In order, the Ministry said that the conditional exemption to use drones would be limited to equipment deployed by the nodal agency for aerial surveillance, aerial photography, public announcements and an aerial spray of insecticide. Details of the drone flights spraying pesticide will be provided to the Directorate General of Civil Aviation.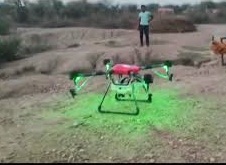 Selective Deployment of Drones
The drones will not be flown over for spraying eco-sensitive zones around Wildlife Sanctuaries and National Parks, according to the order. Moreover, the drone operations will be restricted only to the period between sunrise and sunset. They will also not be used in adverse weather conditions such as heavy winds, rain, dust storms and low visibility.
State Agriculture Commissioner Om Prakash told on Thursday that the deployment of a drone on a trial basis in Jaipur district's Samod village had proved the utility of the equipment in reaching difficult and inaccessible terrains. "Drones can spray insecticide at the height and in places where regular sprayers cannot reach. They can kill locusts which are perched on high trees these days," he said.
Dr Prakash said though the drones were not as effective as sprayers, which are usually mounted on tractors and fire tenders, they would be useful as an "additional support" for sprinkling the chemicals on the locust swarms at places like foothills and dunes. A drone can spray pesticide on a nearly 2.5-acre area during a flight of 15 minutes.
Tenders for Drones Facility
The Agriculture Department has been floating tenders for engaging 30 drones for locust control in Rajasthan. Dr Prakash said the insects were landing on trees and foraging on leaves primarily because of lack of vegetation in agricultural fields after the rabi crop harvesting. They are likely to come down when they find greener on the land.
Locust threat is more significant in 2020, warns Agriculture Ministry monitor.
The Agriculture Commissioner said the locust control operations had been carried out in an area measuring 67,000 acres across the State. There was no significant damage to agriculture because of the absence of standing crops, but the cotton crop in 4,000 hectares in Sriganganagar district and 100 hectares in Nagaur has been destroyed.
200 Teams to Survey
Over 800 sprayers-mounted tractors and 50 fire tenders have been pressed into service for locust control. Dr Prakash said that about 200 teams were involved in the daily survey of the affected areas and the farmers were being supplied with high-intensity insecticide-free of cost.
The Government of Delhi has also issued an advisory on preventive measures to control a probable locust attack.
The swarms of tropical grasshoppers, which have been crossing over to Rajasthan from the India-Pakistan border since April 11, have moved towards other areas in neighbouring Madhya Pradesh and Uttar Pradesh and even reached the Vidarbha region in Maharashtra.